I have painted and taped my track so I thought I would start a new thread now that it is up and running which will document the building and running from here.
I like the name Arlington Park Raceway - as we live in a newer housing area called Arlington - (I recall Matticus was going to use the name as well but I guess there will have to be two tracks as that is what I am thinking of calling it
)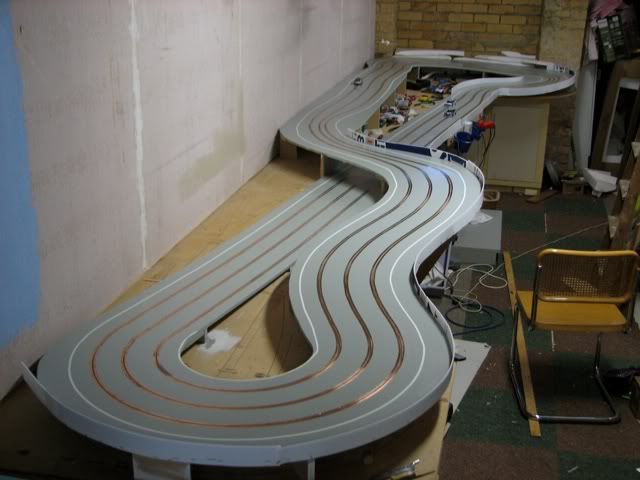 Track is a 3 lane routed on MDF lane spacing is about 90mm with around 60mm on the inside and 150mm on the outside. The plan is an adaptation of the Paramount Raceway track. Modified to fit into the available space. Width is 1.2m at the closest end and 1.8m at the far end length is 6.7m the main straight is about 4.8m...I have 2 squeezes one on the bridge and one at the far end as you come on to the straight. The track can be run in either direction at the moment I am undecided on which way I prefer.
It is nice and fast but you have to watch the squeezes and the turns - track was primarily built for fun - my children and I like to drive some cars. The wall behind can be easily removed if I decide to increase the size of the track - so that might happen next year
I would love to also make a single lane rally track so I have some ideas on how that might work - might be a case of watch this space -
Scenery I am planning a Le Mans like pitlane at the far end under the raised section, (where all the cars are) plan to add a lake at the far end and some hills and rocks and brick/rock walls etc and trees... the bridge will have a tunnel like opening either side probably with an stone bridge on top... I think it will be a case of putting in what I like the look of when I get to that part....
Lots more pictures of the building process to date.
http://s270.photobucket.com/albums/jj113/d...er/new%20track/
cheers
DM
Edited by dangermouse, 24 May 2009 - 07:36 PM.