There are plenty of handy hints and how to repair hints posted on Auslot for new and older readers to look over but how about one thread with most of the ideas in one place ?
Dunno if its worth it but posting pictures and notes on how to do it all in one place could make it easier for people to find answers ?
If you have some good pics etc on things like repair jobs on broken chassis or how to fit a slot it flag into a non slot it chassis , fixing broken plastic rims etc etc why not post it .
I have done this cheap trick to fix loose standard axle bushes , ideally the way to go is replace the standard bits with some quality parts but if the budget is tight or the rules say its gotta use the stock parts then this works.
Loose axle bushes allow the axle to move back and forth or side to side too much and can cause the gear mesh to be less than ideal and the car can also bounce about when it accelerates on the straight. I have used the gap filling super glue to tighten up the slop between the axle and the bush.
This works on plastic and brass bushes and lasts for a surprisingly long time
First step
Are your bushes glued to the chassis so they can't spin in the chassis itself if not then I recommend doing that before going further
Second step
- have the track or power supply of some sorts turned on ready to go and have it set so the rear wheels turn slow 3-6 volts
Third step
- remove the body
Forth step
- a light oil of the axle and bush , then let a little gap filling super glue wick its way between the axle and bush
Fifth step
- run the car at slow rpm until the glue sets around 5 - 10 minutes should be plenty of time.
Don't let it sit still or the axle will glue tight to the bush , when the glue is set the slop in the bushes will be taken up by a super glue sleeve that has been formed between the axle and bush.
Give it another oil and away you go. No more sloppy bushes .
This trick can help with the side to side slop between the rim and bush a bit as well but that slop is usually because the plastic factory rim isn't pushed on all the way.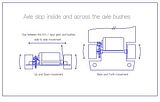 Edited by BMR, 27 June 2008 - 03:29 PM.