I had my 4 lane classic track squeezed onto a 2.4x1.8 table...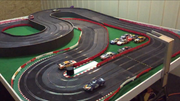 With the luxury of a bit more space I thought I would extend the track and have a go at routing as well. So I acquired another 2.4x1.8 9mm mdf board and started a plan...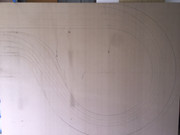 I built a lightweight frame under the mdf which was cut to fit the curve, and routed a four lane squeeze...painted and double sided tape laid...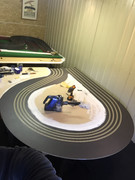 Another coat of paint and start landscaping...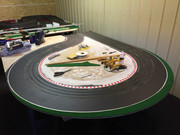 Magnabraid finished...
The tables joined. The 9mm board sits on top of the original table, the green underlay providing the extra height needed to match the 8mm plastic height to the 9mm mdf routered surface...
The transition...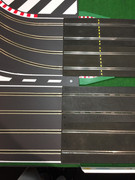 And the end result...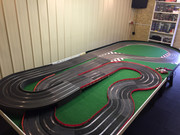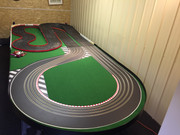 Obviously a few details of the build left out, but basically followed the advice from this and other forums and was a relatively painless exercise!!
Edited by DaveH, 04 July 2019 - 11:53 PM.