The detail of the Carrera #1 JWA Gulf car (Second place Daytona 24hrs 1970) is astonishing. For a car that cost $59 I am just amazed. The guys at Armchair sent it out that day (I paid for express post) and it came the very next day. Was a couple of weeks before I was able to run the motor in and do some basic tuning. The performance of the car post tuning is absolutely nothing like box stock Carrera at all, completely different car. So far I am happy, but its early days and I will improve on where I am at no doubt. So far I have removed the magnets, run in motor at about 1.7v for about 70 minutes (I was a bit pressed for time, I just hooked up an Energizer AA cell as I didn't have time to organise a bench supply) Added a few grams of weight (possibly not enough it seems) under the rear axle, but the biggest mod was machining the stock wheels to take NSR Formula 1 tyres. I wasn't sure what compound would suit best, so I have tried supergrips first and will try ultragrips later perhaps.
It seems it was worth the run-in, even if it was only short and probably a bit low on the voltage side, because this car has much better pick up than my other Carrera 917k (also magless but with Paul Gage urethane tyres) and it has that sweet motor whine that funnily I don't hear on the other car either. Perhaps its also because I put a drop of Parma oil on the pinion end of the motor, and as the brushes end was sealed... I put a drip on the inside of the can (away from the comm and brushes... at least as best I could) and put the motor upright overnight to hopefully let a bit flow into the bush at the other end. Someone on another forum suggested another method which I will try when I have the time.
The car hops a bit... the tyres aren't the best match to the rim, even after machining... I think it will be just right (and handling might improve) when I apply a bit of nail varnish around the outside of the rims to seat/stick them on better and I'm hoping its tendency to roll might reduce too. The machining was a bit of a compromise as I got the wheel (diameter of the internal step was 17.5mm) down to 16.00mm but couldn't take any more off without the step part of the rim getting a bit thin! (the step is hollow so has limited amount that can be machined off) I think 15.8 or 15.7 would have been perfect and the tyre would have seated a little better on the outer 13mm rim.
Car seems quicker than my other 917k (magless, urethane tyres on that one) but I haven't measured lap times yet, I have a feeling it would have at least a half second on the old 917k on my track, so somewhere around 6 to 6.2 seconds at a guess. (as a comparison, I have done 4.93 seconds with a stock Sideways Huracan GT3)
(edit: I just realised why the motor might be a little more responsive than my other 917k... The other one is equipped with a Carrera digital chip, running in analog mode, also with headlights!)
Lets see how this image hotlink goes...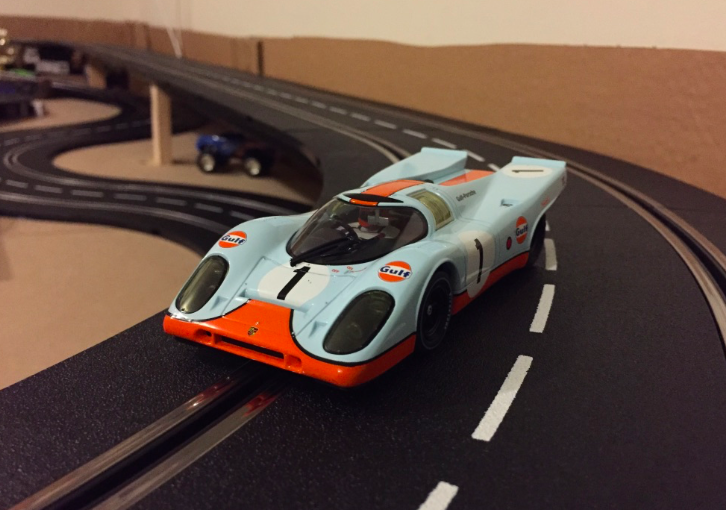 Edited by Slotspeed, 16 May 2018 - 06:25 AM.