It's Huracan Season Again
If you hate fantasy liveries - look away now. For the rest of you, serious eye candy follows. The Sideways Lambo in flat black "Carbon Fibre" livery
Said to be available from late April in our part of the world.
They have fitted, for better or worse, their more powerful Raptor motor to these - rated

21,400rpm, 350gcm @12vdc, for 18.8 watts power
instead of the "Baby Raptor" motor that they fitted to the other three models - rated
17,000rpm, 245gcm @12vdc, for 9.8 watts power
That's a pretty massive margin of difference - 25% more rpm, but 90% more actual power.
Gearing is the same, so the torque will be massive. With high gripping tyres, I think you may need chassis and pod upgrades to "Hard"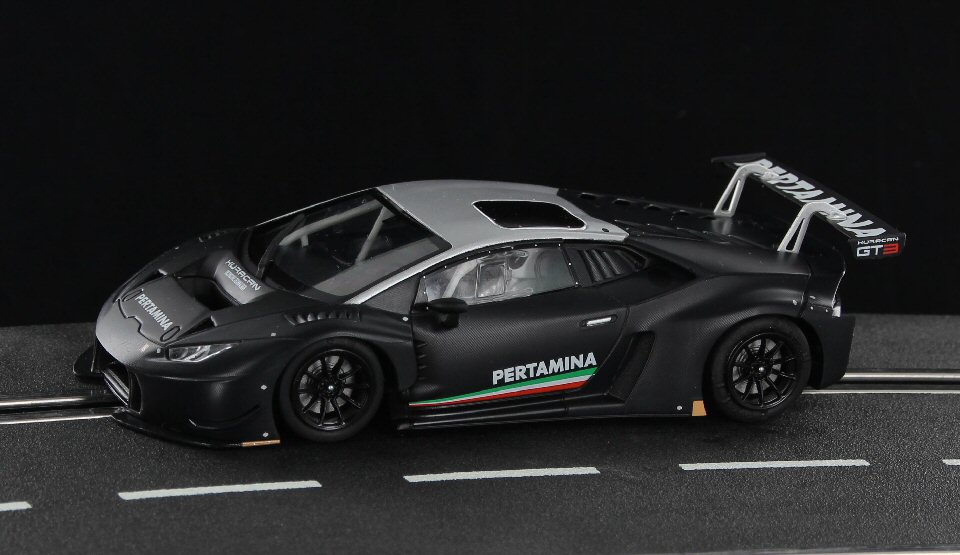 It comes with a Key ring, so next time you park your Toyota Yaris outside your mate's, you can wander inside; throw these on the table; wait for the
green then go into denial when they look out the window.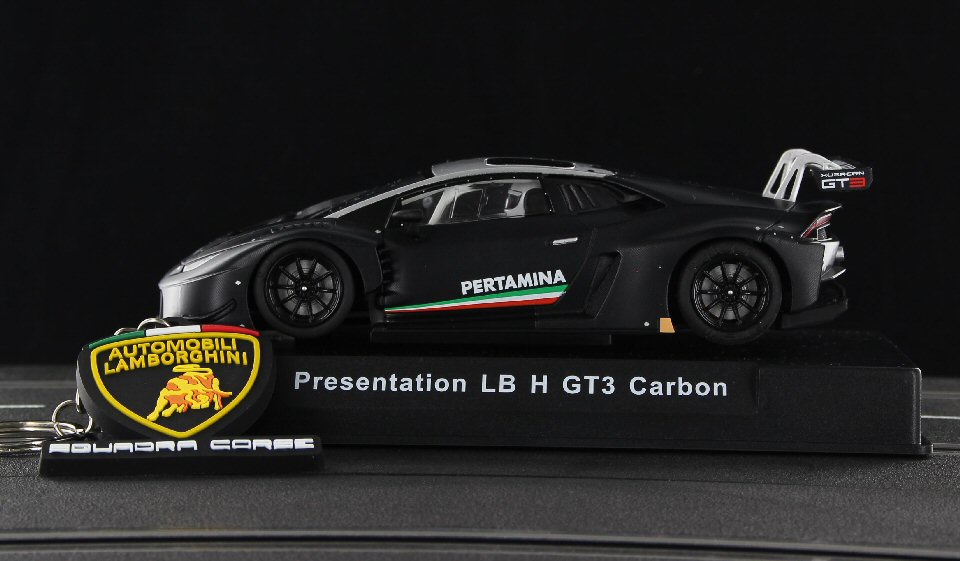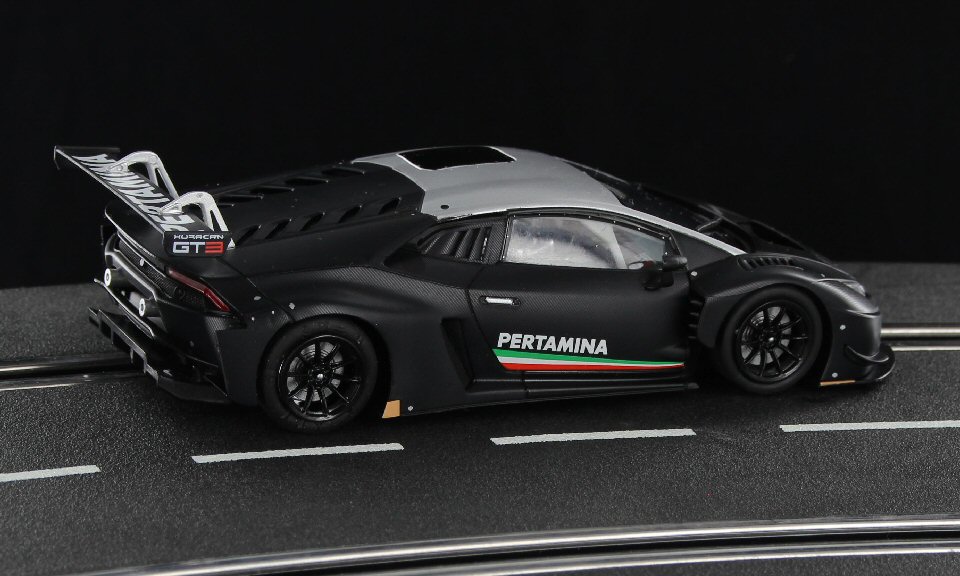 The surface finish looks stunning - in the shot below you can see that carbon fibre texture effect.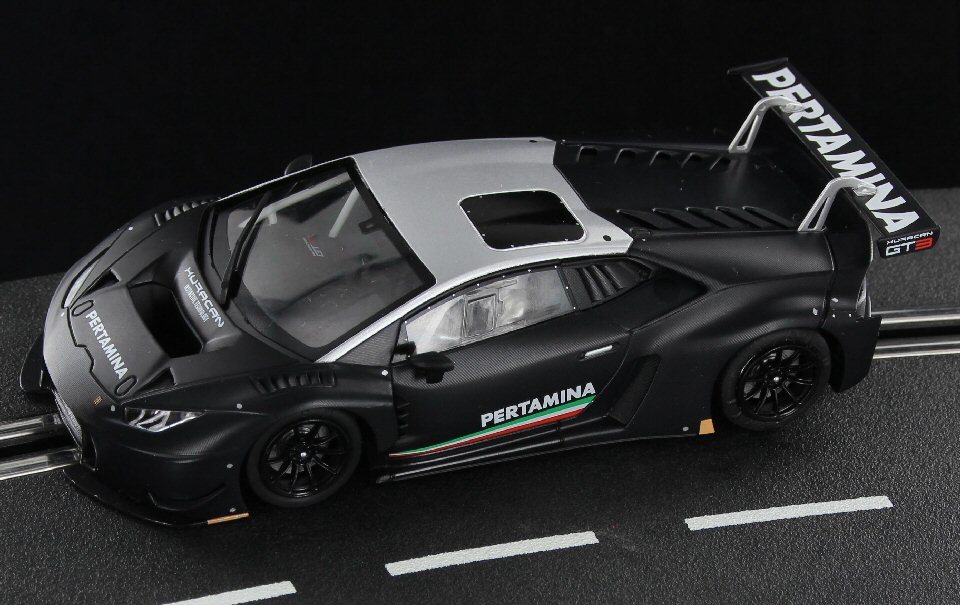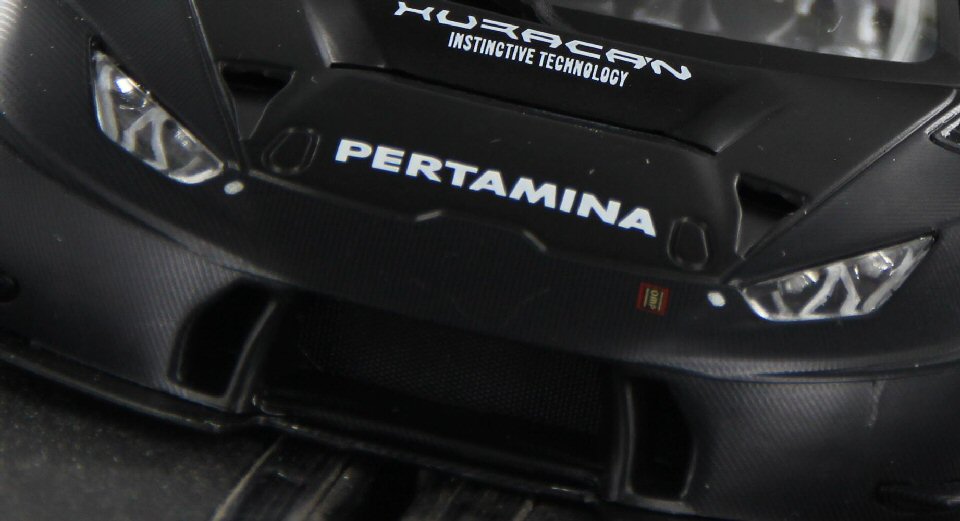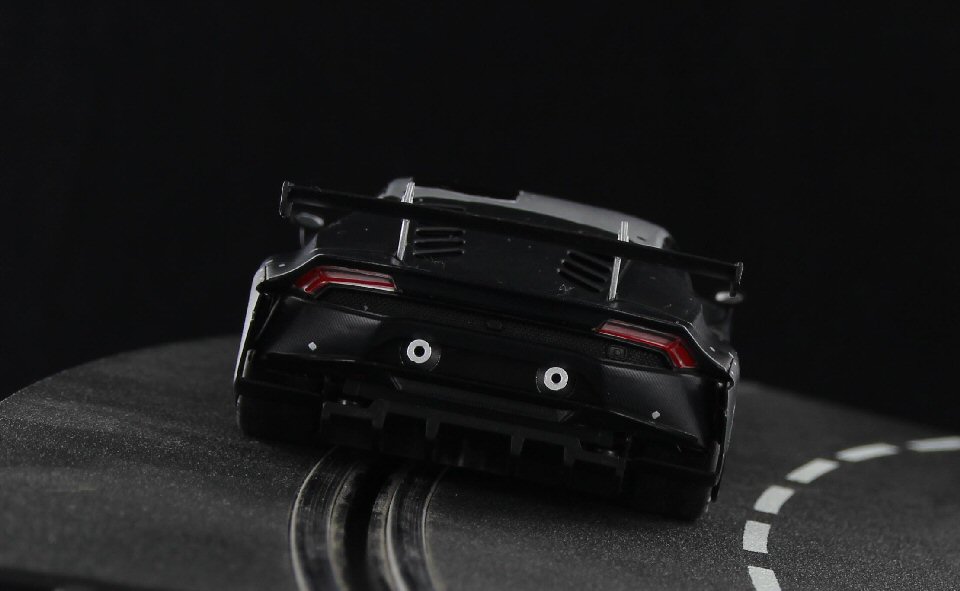 That looks great...

The Baby raptor looks to be similar to the NSR king 21, so should put it more on par with the NSR GT2's.


And yes, I think I need to get one of these.
Caddo
30 Mar 2018
Just a laugh:
VW = overpriced Skoda
Audi = overpriced VW
Lambo = overpriced Audi
I'm a Skoda owner, love it, it's a great car, but maybe I have badge envy
Nah caddo, I call it "angle envy" the more you pay for the badge, the more racy the angles you get
Rusty - other way around - "Baby Raptor" as in the other liveries of the Huracan has identical specs to the Baby king, "Raptor" as in this livery, is equivalent to the full 21,4k King
I followed an orange and black Huracan into our local Mega hardware store a couple of weeks back. A couple of pretty ordinary, scruffy looking guys hopped out and sauntered inside.
One of them looked markedly similar to a local bloke who is usually better dressed and flogs "nothing" online - well
Xero
to be exact.
I guess he'll have more time to drive it now he is retiring from the steering wheel of the company.
Caddo
31 Mar 2018
Haha, yeah, you are right Mark.

The Huracan has some very nice angles to it.

So good to see GT cars now on the agenda of top tier, 1/32 car manufacturers.

Now we need them to recognize the market for Trans Am / Muscle Cars.

So sick of having to buy poor quality SCX and Scaley's, then spending a mass of money & time getting them to run well.

[PS - Can't believe SCX have stopped making the 'Cuda, are they crazy????]
r377
07 Jul 2018
Hee hee, a couple more of Caddo's overpriced Skodas. Sideways have just released two race liveries for these broad beam beasts.
The Lazarus livery is shipping now, the Barwell Motorsport (Vodafone) livery ships end of month. I thought I would pluck me one of these fine orange beasts, because as we know, red cars go faster, and orange cars go even faster than red.
But despite Vodafone having won the "most hated company" in New Zealand yet again last month, that red one does look very nice in the flesh.
I'm torn, but one of them is definitely coming to a slot box near, (very near) to me.
They are both fitted with the Baby raptor motor, and after seeing how well one of these runs with a mid power motor, I am kind of pleased they don't have the big one.
The spec of the Baby Raptor and appropriate gearing, has is about the same power as other low RPM boxers by NSR and ScaleAuto, or Slot.it Flat-6 & MX16 S-can, and NSR Shark 22k
Some will of course upgrade, especially if they run on some of the bigger raceway track in Oz, where they can really stretch their legs.
One guy in our club has a gulf livery and it goes really well, and one guy ran one at the Nationals against the Slot.it and NSR GTs and it was very quick and stable.
Would be great for someone to do an article on how these perform in other situations against the usual suspects.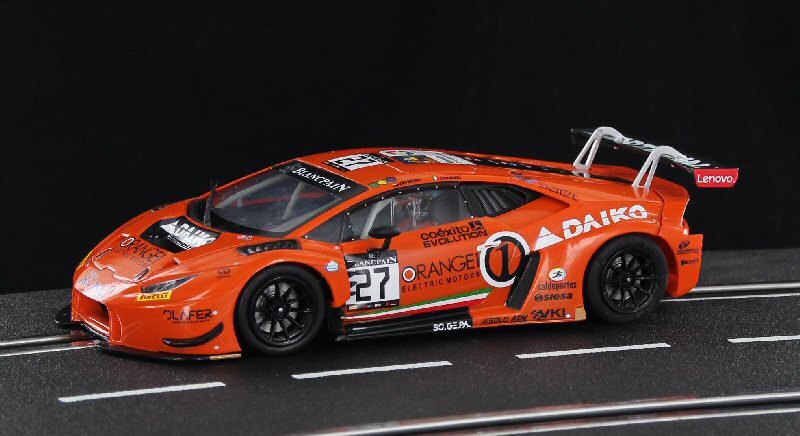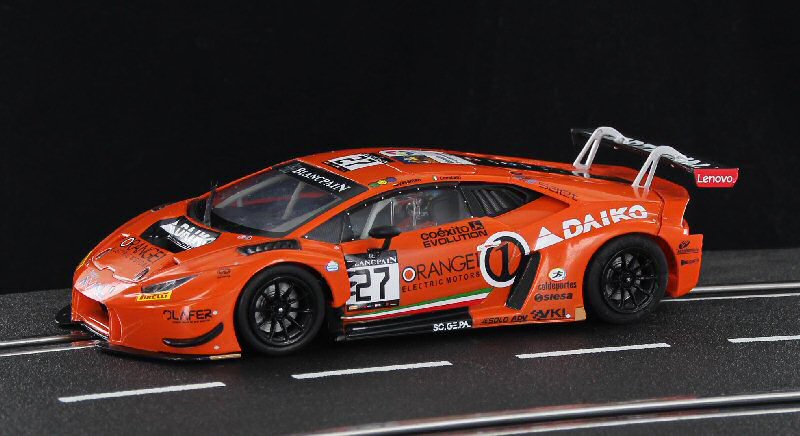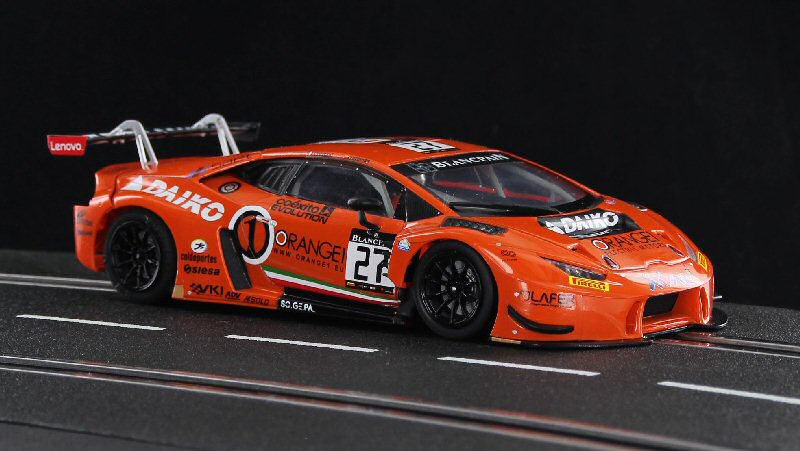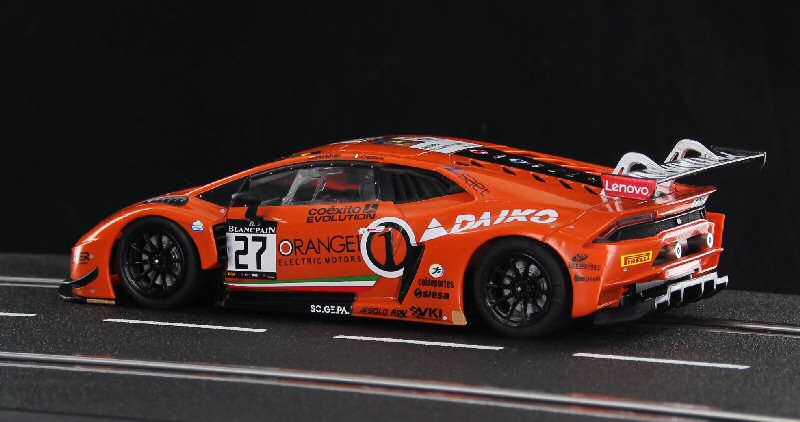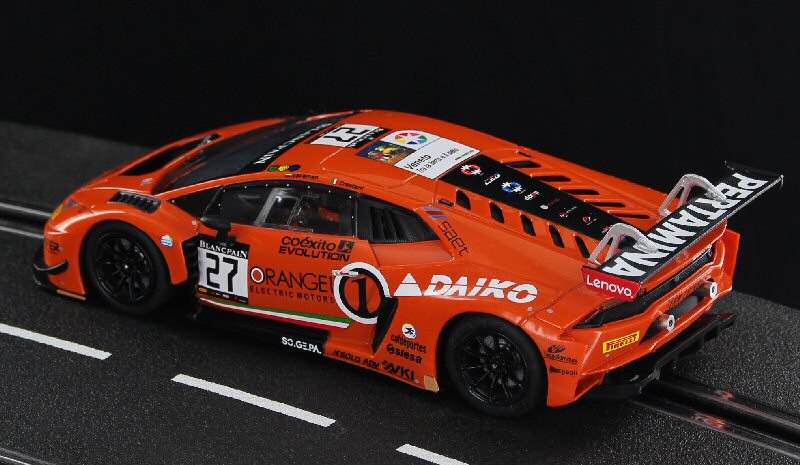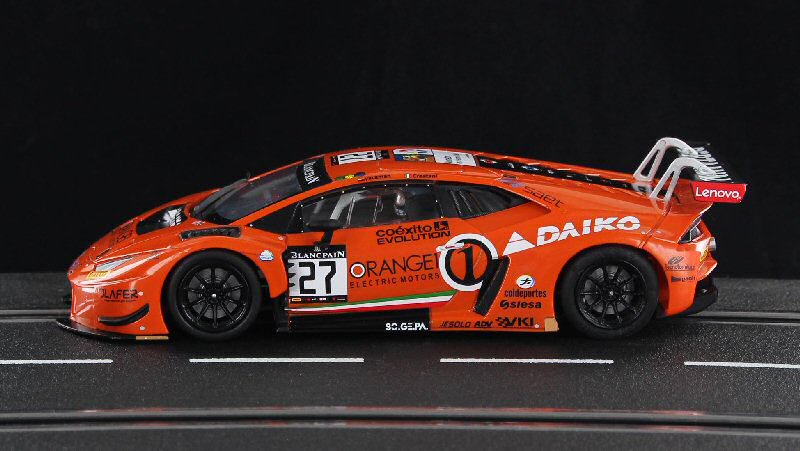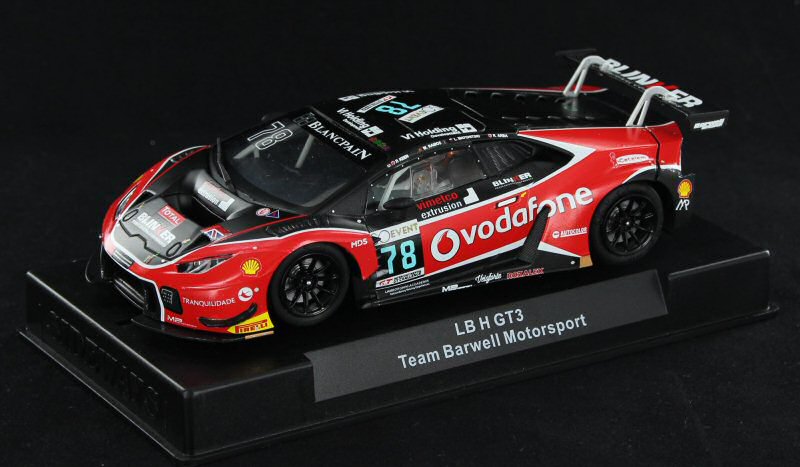 Chassis: Podded - has a new rigid Sideways pod
Motor: Sideways baby Raptor 17,000rpm 245gcm @12vdc for 10.4 watts, mounted a/winder 0.7mm offset
Axle & Gears - 2.38mm (3/32nd) 55.5mm front 56.5mm rear
Gearing: Crown 28 tooth alloy - Pinion 11t brass
Has adjustable height front axle - M2.0 Hex screws, supplied with car
Hubs front: Plastic 17.3mm x 8mm
H
ubs rear: Alloy 17.3mm x 10mm
Tyres front: 19mm x 10mm ultra hard 70 shore
Tyres rear: 20mm x 11mm Prospeed medium (soft rubber)
I'm pretty sure i 'need' the Lazurus livery, it'll look great next to the green of the earlier Gasser racing livery.