The cars hit the track for the first time yesterday for some practice laps.
It was an open session so there were several classes on the track at the same time.
Here is all the field waiting for the timed session to start.
Chris's car did a couple of good laps then the motor expired!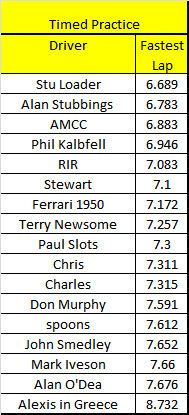 The Brabhams dominated this practice session.
Lennys Cooper needed a tow back after stopping on the circuit, Only out of fuel, Must have a Holden pit crew!
Qualifying will follow in the next few days before the race early next week.
Edited by kalbfellp, 24 April 2014 - 03:06 PM.