Hi guys,
As most of you know by now, we - in Qld - have been racing this class in various formats since late 2005. It all started with PETG Porsche 996's and steadily progressed to the full blown GT class it is now. This class caters for everyones likes - body wise the choice includes plastic modelling kits right up to the very fansy and expensive handmade carbon fibre master pieces form Fola and Nick de Wachter. Chassis choice is similar, anything from your basic Plafit or Scholer to the very best of the best commercial runs offered by Garry Johnson, Fola, NDW and the like.
I have not raced this class since 2007, so I decided to make an effort and get involved again. My choice of body has been the Scale Auto range (which you may realise has become somewhat of a passion with me). I like the bodies as they are very well detailed and has better crash resistance than normal plasic modelling kits, whilst they are still affordable - starting from $29 for a white kit. From this range I decided to choose the Porsche GTR and the Audi R8 LMS - It has been a longstanding habit of mine to build two cars and then deveolpe one against the other for maximum performance extraction.
The class rules (very losely and in summary) provides for a minimum total car weight of 160 grams, here is my Porsche...
...and my Audi (please ignore the wheel inserts on it's roof - still had to put them into my wheels of choice).
You may be wondering how I got these cars so close to the minimum weight limit - I'll get to that, but let me just say; there is no extra lead on either of the cars, only the chassis and body as built...... The minimum body weight of the class is 45 grams (both cars are the same, so I'm only showing you one).
Now when I show you both the cars underside, look closely and you may spot a few differences, that account for the weight control. Here is the Porsche....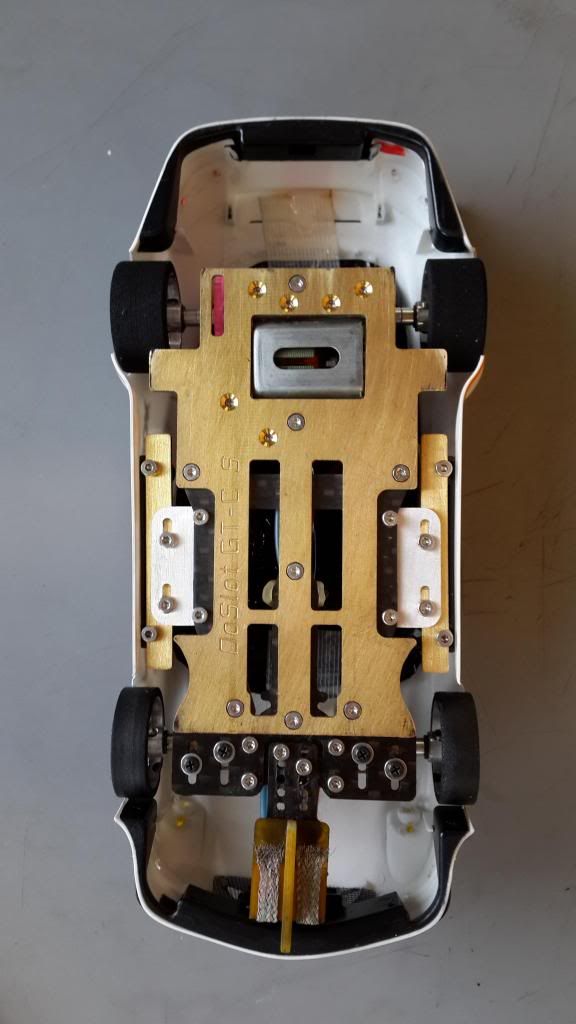 ....and here is the Audi.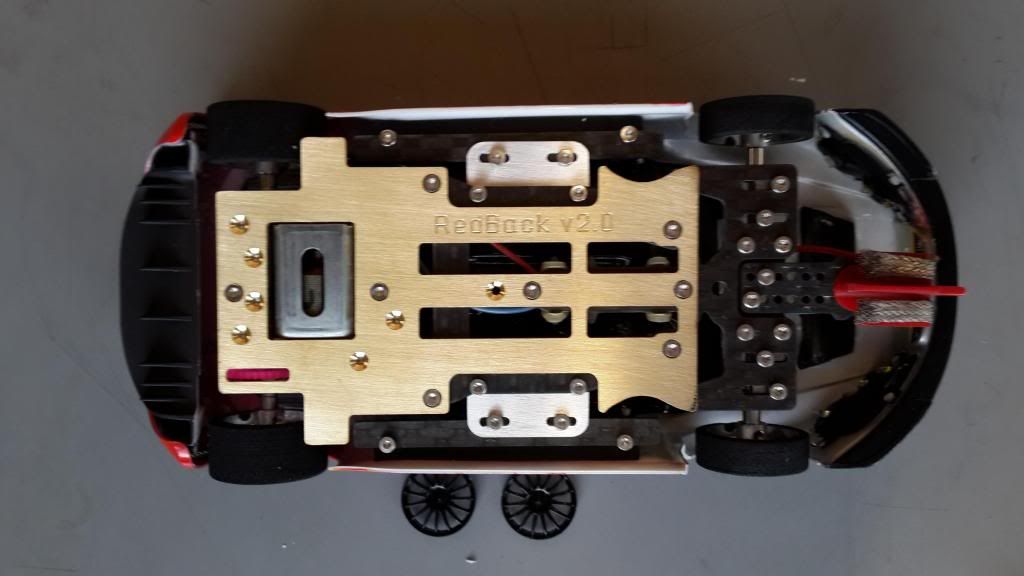 The body weight secret lies in the body mounts... DoSlot has developed this chassis system with aluminum, brass and carbon fibre body mounting plates....so you simply use the plate that will give the correct end result.
DoSlot is a German company and their chief designer and engineer, Sebastian has specifically developed this chassis for the Scale Auto bodies. One can get all the correct body mountings and simply take the Scale Auto body off your Scale Auto car, then screw it on to this chassis and you have a Modern GT. Two classes, one body - too easy. (Those of you that know the Scale Auto rules, will realise that these two bodies of mine are not legal for those rules due to a few bits on them).
Here is my Audi and it's DoSlot chassis, side-by-side. For the Aussie specifications, Sebastian has titled the chassis 'RedBack' and it certainly is a lethal weapon.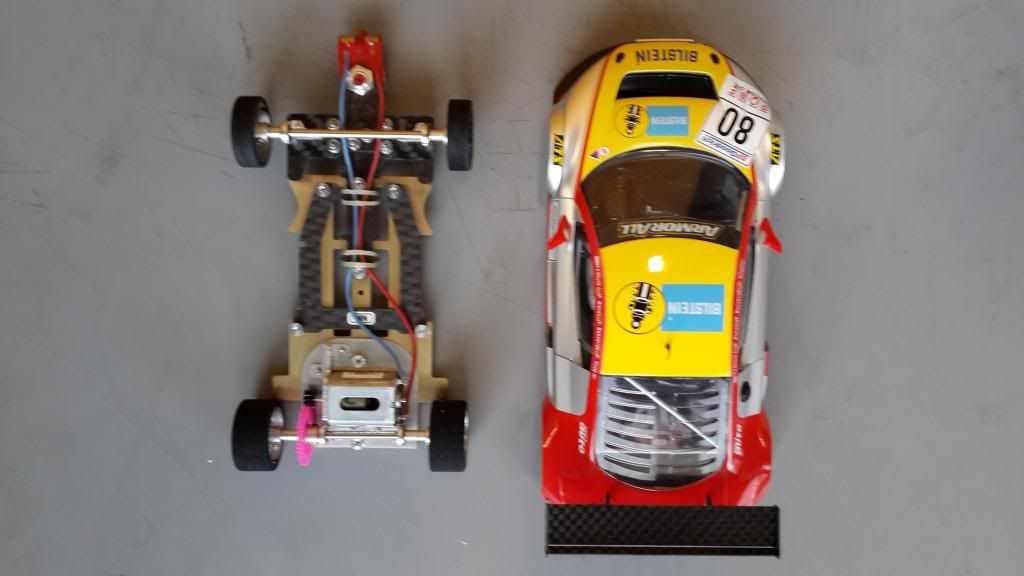 ....a closer look at this work-of-art.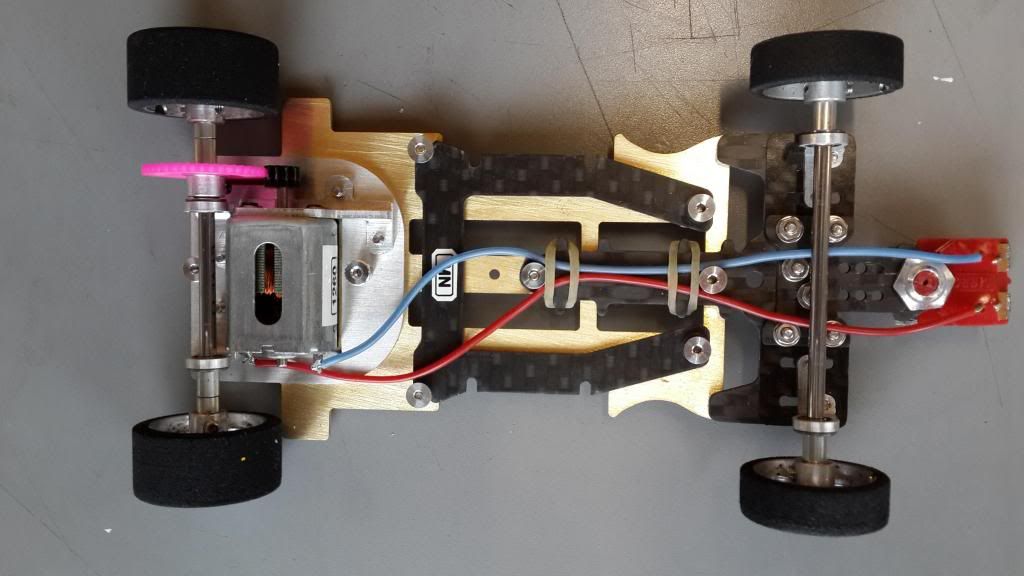 Now I just have to get them to a track and race - hopefully all the local hotshots will give me a break and allow me some glory with my two new cars.
Cheers,
Jan
Edited by Springbok Racer, 26 June 2013 - 08:18 AM.