Welcome to Round 12 of the 2012 SCX World Rally Championship.
This round is being held in two locations; our local disused temporary church and a huge model shop.
Brama Model Shop is in Perugia, Umbria, right in the centre of Italy. This huge shop is divided into two parts, one for static models – war-gaming, trains, and general modelling, and one for dynamic models – RC cars, boats and planes and of course slot cars. Within the dynamic section there are two large slot car tracks - a fixed four-lane racing circuit and a two-lane rally circuit which is constantly altered. Both circuits are Ninco commercial track which is sold in the shop along with a wide range of slot cars, parts, and accessories.
The four-lane race track
One half of the two-lane rally track
The other half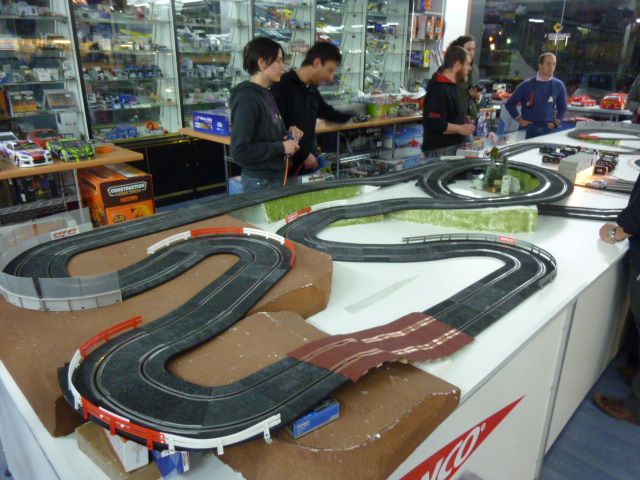 Brama has been my local club for the past two years and runs a weekly club night alternating between the two tracks and various classes of car. There are also occasional championships and endurance races to add further interest. Recent improvements to the four-lane track have attracted some of the top drivers in Umbria racing alongside regular club members and the shop staff, making competition very fierce indeed.
For this event my own Castellano track is coming out of storage to be set up in our local disused temporary church.
Just to remind you, this is a view of Castellano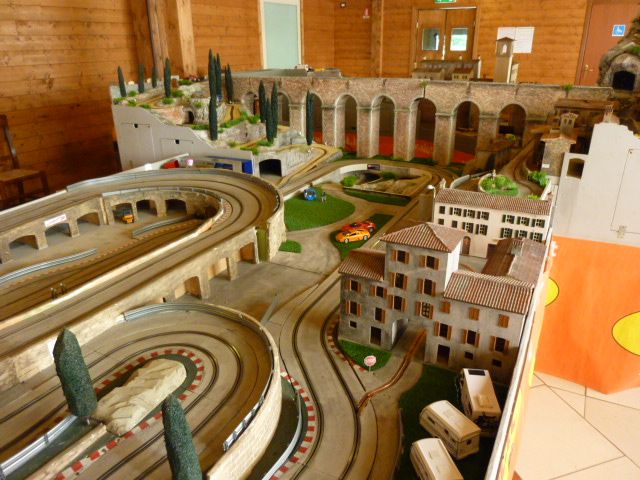 But it's better to watch this video to see the whole track
http://www.youtube.com/watch?v=rPcLv4KfYqs&feature=fvst
There will be four stages. Stage One will take place on one lane of the four-lane circuit at Brama emulating a typical rally stage on an airfield. A regular lap takes about 10 seconds so this stage will be timed over 15 laps of the circuit. Being Ninco, this is a very grippy surface, fast and flat, with a combination of long straights and sweeping curves, together with a few obstacles added just for the event. It will favour some cars and not others and we hope it will mix the leaders up a bit.
Stage Two will be run on the Brama rally track. I have no idea how they will lay this out as they change it virtually every week, but it will be good.
Stage Three will be run on the two-lane section of the Castellano track. This is Scalextric Sport track painted with emulsion paint so quite slippery, and this will also be timed over 15 laps.
Finally, for Stage Four, the full Castellano track will be used. This incorporates the two-lane section from the previous stage but diverts off onto a single track of routed MDF which rambles through the Italian countryside, over a viaduct, through villages, up a mountainside, through a couple of tunnels and even over a railway track. It's very challenging to drive and takes around 45 seconds to complete so this stage will be timed over just three laps. Cars will be flagged off the official starting ramp by a local celebrity and we hope to have the local TV station along to film it and interview the drivers. The event has been well-publicised and we expect quite a crowd of spectators in the shop.
We will be selecting our best rally drivers for this round so we expect some serious action. Cars will be run in random order to make it fair for all. We will also have a professional photographer taking a series of action shots as the event takes place.
All eyes will be on Team Umbria, which has four cars entered as Brama, Sciri, Conti-Rowland, and of course (your favourite) La Porta Verde!
We hope you will enjoy this round here in Umbria as much as we expect to.
Edited by Graham Lane, 23 September 2012 - 06:47 PM.