G'day all,
Below you will see a couple of photos of my original track I had set up on an L shaped table (2.9 x 2.4 x 1.2). This track was set up for roughly 12 months before I decided it was time to remove the wall you see to the right of the dart board. It was tight and twisty consisting mainly of R1 and R2 curves and was approx 20m in length both lanes the same.. These photos were taken with my mobile phone about 5 mins before I started to pull it down. It was fun but I wanted something more free flowing.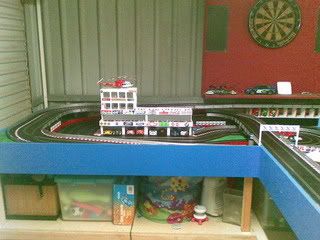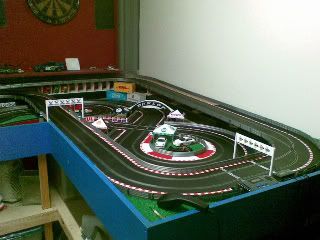 So I came up with this. Track is approx 22m lane 1, 21.75m lane 2.

Table size would be 5.3m x 1.5m with the top of the table approx 900mm from the floor made up using the 2 sections of my L shaped table, extended by 1.2m and widened by 300mm.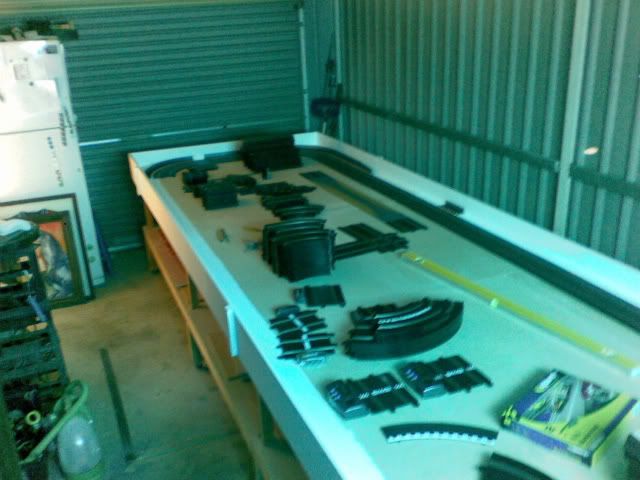 I set the track up as to plan.(Can't get it all in one photo though).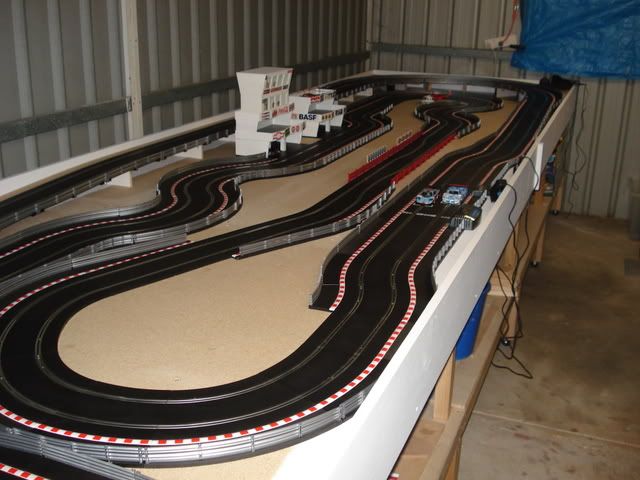 Before the track was set up I cleaned, tightened all the connecting lugs under the track pieces then soldered 2 full straights with power taps and rebuilt the track. The 2 power taps were evenly spaced around the circuit and wired and soldered to the full straight closest to the powerbase. Before putting a car on the track I cleaned the surface again and applied some Inox to the rails and have had no problems with any loss of power. So far the quickest time around the track is 5.9 sec using my favorite car(Slot.it Mclaren GTR F1).
I hope you like my new layout and any feedback whether good or bad would be appreciated. I intend to add some scenery but would really like to put an overpass/underpass somewhere on the layout-any ideas?
Cheers
Matt