Bossman Raceway
Thought i had better finaly put this one in members tracks.Track is still under construction but have knocked up this vid to show where im at
and will take some pics of progress as we go along
Have built so i can remove plastic track at later date and drop in routed sections.
anyway here is the link
link to vid
Edited by gazza, 18 June 2010 - 02:18 PM.
The link seems to be incorrect!
Is this the right link?
track.
Edited by kalbfellp, 29 April 2010 - 08:33 AM.
Hi Phil
the link should work now , i was swamped by customers and couldnt get back to fix the link, all works now though.
Cheers Glen
Ember
29 Apr 2010
I think I might have seen some of your testing vids. Those cars make the Scalex control tower look positively puny.

No excuse for folks not being able to see those cars.

Embs
Hi Amber
yeah it is quite small, I am aiming for to end up with scale of somewhere between 1/15 and 1/32 but as long as it gives the feel or perception
of being on a race track then it will work .
Have started some grass areas and ripple strips the big cars actually ride them making it intersting if you approach them to quick it could deslot you and the 1/32 scale zoom around them
pics
Here is my own car i have base on a 1-1 car i used to race in a bitumen sprint series here in Townsville, just waiting for some decal paper to arrive if you look closley its the vb commodore in the pic next the cars on the wall.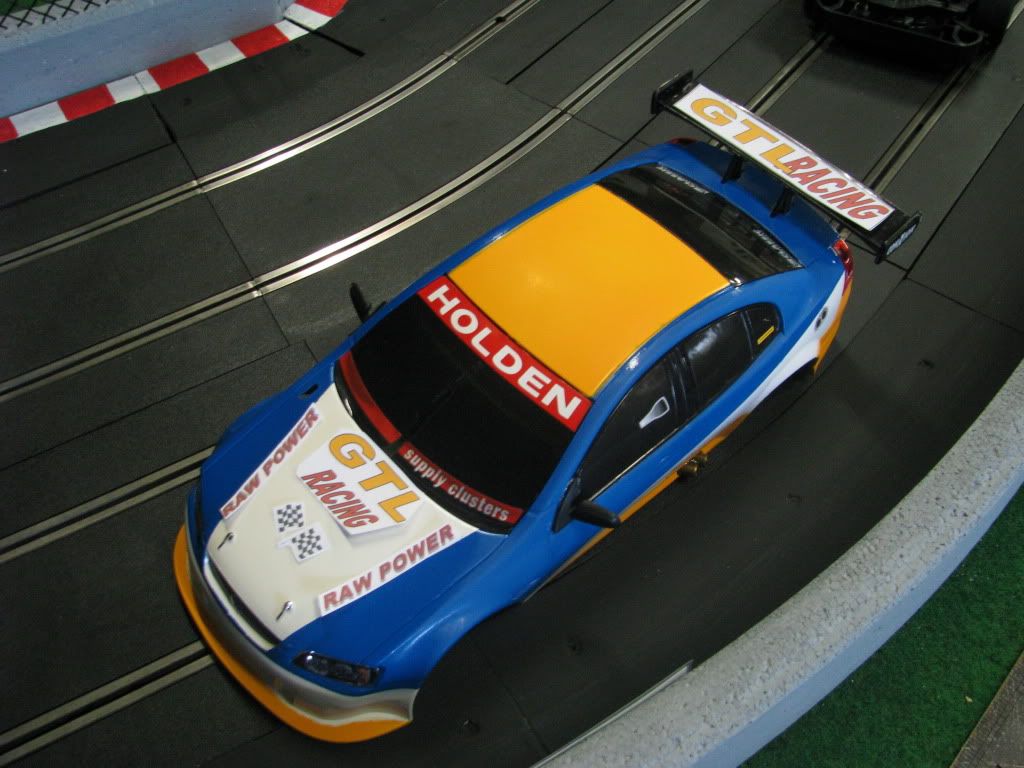 will up date any progress
cheers
Glen
will keep sending pics as i go
Edited by glengtl1, 30 April 2010 - 07:42 AM.
Ok just some update pics to the Track , Have been playing around making tyres for the big cars aswell.
Seem to spend more time racing instead of working on the track.The track is working well for both scales and should be even better
when scorpius arrives.
[img]http://i688.photobucket.com/albums/vv250/glengtl1/bossman%20raceway%20take%202/IMG_1223.jpgimg] [img]http://i688.photobucket.com/albums/vv250/glengtl1/bossman%20raceway%20take%202/IMG_1346.jpg[/img]
Edited by glengtl1, 01 August 2010 - 07:17 PM.
Glen,

This is the first time I have seen this thread excellent stuff.

Are the photo's above a new layout from the Bossman Raceway on YouTube posted in Nov 2008 or are you running 2 tracks.
foggy
16 Sep 2010
Well done great job! Glen did you make the 1/15 scale out of an RC car?
Cheers,
Foggy
(BILLY CART)
Only the one track i coudnt resist taking over the shed with the big cars
Im going to update the video shortly as the big cars are only a second slower around the track than the 1/32 the trick is pulling them up for the corners

(Foggy)
The cars are made from rc/15scale ,the v8 i have been getting from dick smith and supacheap,model engines sell the hrt one, most of them i get for around the
$40 mark so its not as painful when you pull the guts out hook it up with a slotit chip as they can handle the amps and a plafit guide and braids and away iwe go
the motor and gearbox assembly at the rear are a floating assembly which you can adjsut the what i call the ride bump/rebound to hard or soft which gives you some adjustment , this is good as my ripple strips are 3mm high so need a softer setup .I havent played with the gear box yet.
The more i run the big cars the better i reckon they are interms of actual racing as you cant just have the fastest car and zoom past you actually need to time it and get in the lane that best suits to get past, there are parts of the track where a basic drag to the next corner is possible but the track always comes back in after the corner so its a trick to decide to yield or try to get in front a stop and go for being an enforcer makes it hard to catch back up, well 1 isnt to bad you might get away with two but 3 stop and go's would make your chances of catching back up slim to none depending on your opponent and you also have to then overtake the other 2 cars on the track aswell.
I also have some F1 cars from jaycar 1/18 scale which are also good on the track still making some rubber tyres for the rear of them
I cant beleieve how much rubber comes of the tyres on the v8's
Glen,

That old bossman raceway was a great set up pity it no longer exists.

It's incredible how you are able to race 1/15th on scaley sport track and only be 1 sec slower than 1/32, look forward to the updated video when the big cars are out of pace car mode.

PS. I must admit I enjoy racing Aussie V8's that I thought 1/32 was the only option, obviously not so.
It's just a four laner with 40mm borders on each side , im still tinkering with an outside track that you set up and run in your yard or house if big enough, maybe i will have to sponsor a championship using 1/15scale cars and put up prize money to make it worth while for racers to travel to an event.
will see.
Still a lot of research to do.
Edited by glengtl1, 17 September 2010 - 01:51 PM.