Thanks for the comment bandit
Hahahah nah don't worry Neil you'll be right, it's a hardish track to learn but judging from the ppl I've had around so far it does take complete rookies a little while to pick it up but thats why they invented magnets! Anyone who has driven slot cars before generally picks it up in about 20 laps or so and is doing around 30 second laps after that time, a hot lap is like 24-25 seconds... Plus at 1.7m wide (u can reach 3/4 they way across) & only one driver at a time marshalling will never be a problem
Thought I'd do a quick pic update as well...
Once I had the layout I was happy with I made lots of extra runoff so they cars can slide past the width of the track without de-slotting. After lots of testing I made these extra bits which make a huge difference from tip toeing through the corner to a nice power slide...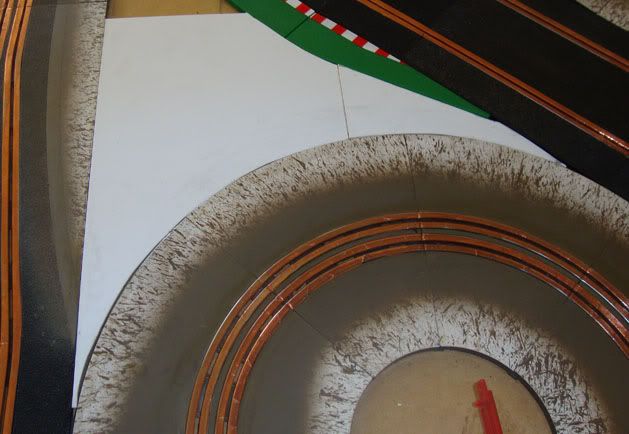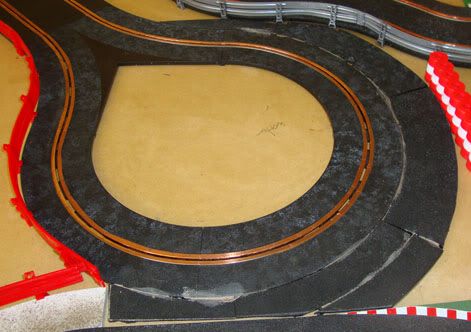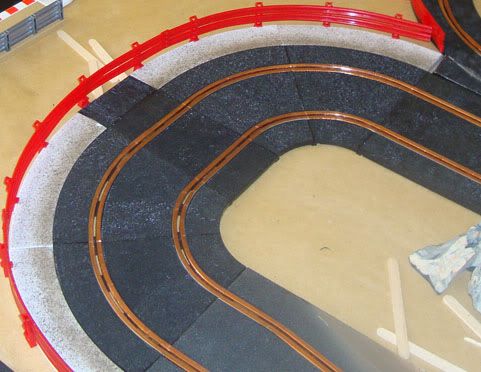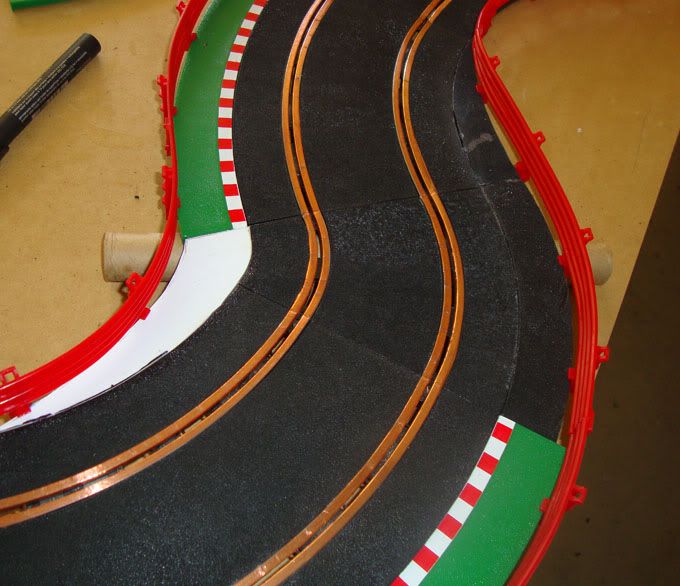 Once that was all done it was time for paint, I glued the track down and no more gapped every join & sanded them sooth then painted...
Time for scenery to start, the Zig Zag after paint before rocks
I did the expanda foam rocks, can't beat it for ease of use or price I reckon, $10 a can!
This is what it looks like when it first comes out, you gotta make sure you don't put it hard up against the edge as by the time it expands it will obviously be on the track...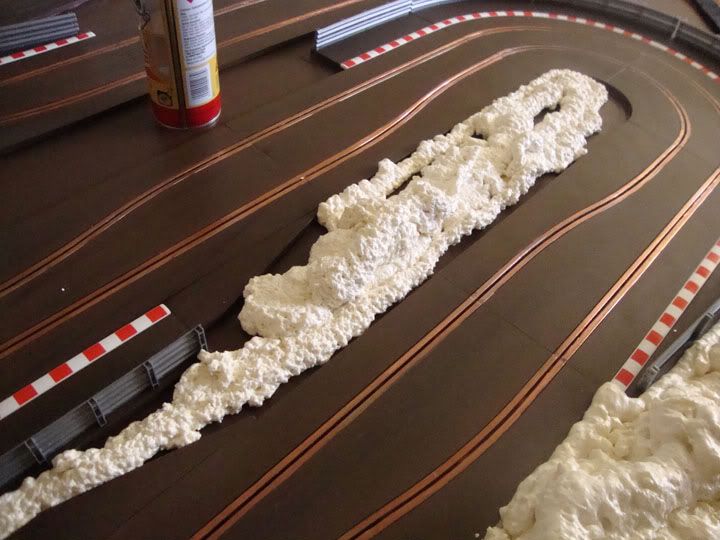 After about 20-30mins, starting to rise...
Once it's risen and all dry I started with black paint to get in all the cracks...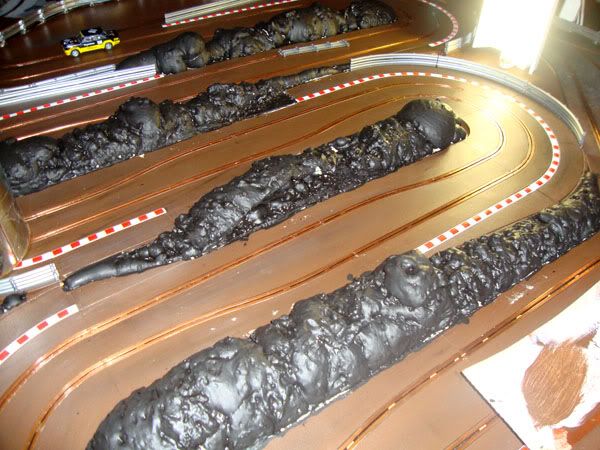 Then I painted it brown, then dry brushed, light brown and light light brown, added grass and bushes etc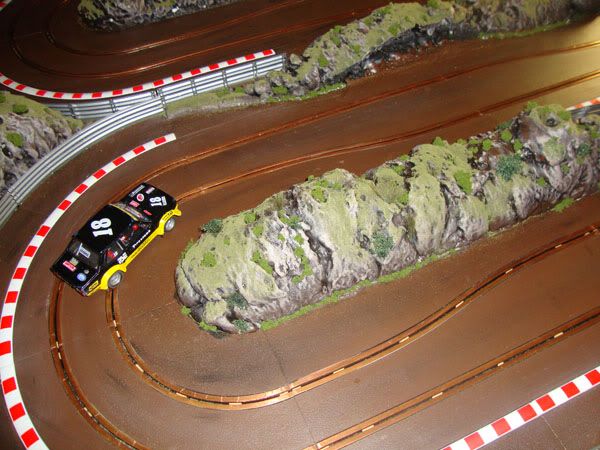 When it's drying you can mould it how you want, push it back in, cut holes in it etc With some bits I pulled at it when it was tacky with paddle pop sticks and you can get a more rough effect this way. I went for large smooth roack because this is what the rock is like on the actual zig zag.
A word about the foam, wear gloves or use paddle pop sticks to touch the foam, don't ever touch it! I'm a painter by trade and I have every solvent & goo remover on the market and I can tell you the ONLY thing that gets this foam it off your skin is time....
Made a dunny & a water tank this week...
Also made some road and advertising signs...
A few are in place already...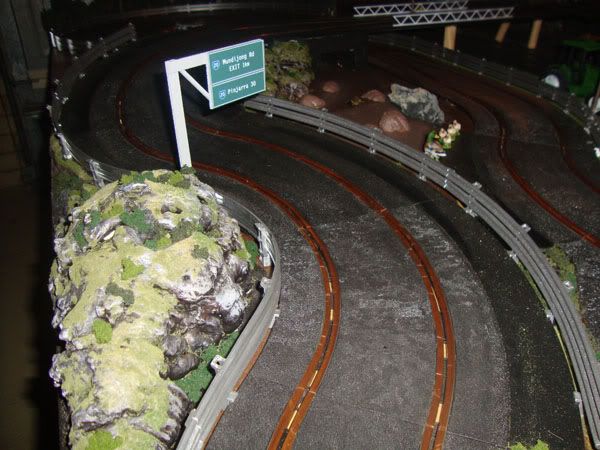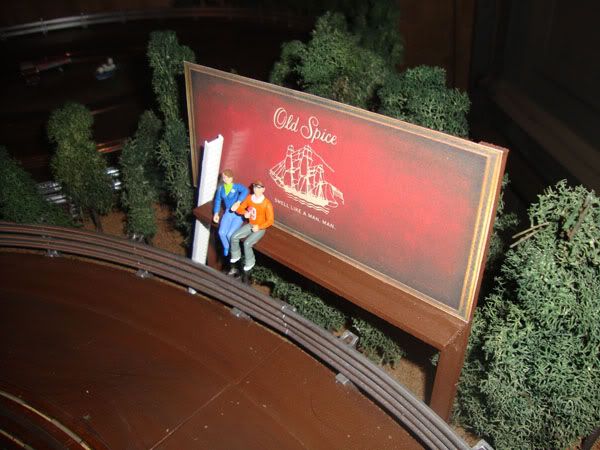 Am getting there, still got plenty to do though....