My rally track is starting to take shape so I thought I'd post some pics up...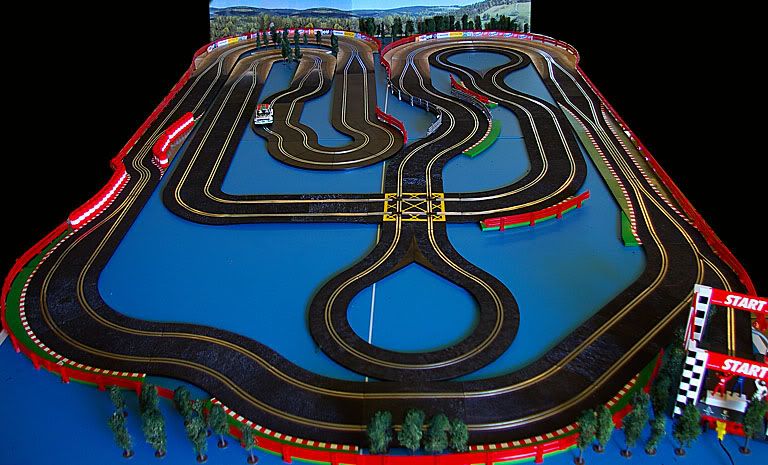 Track Info
Not sure how many feet it is in length as I haven't measured it yet & I have more track than pictured with heaps of layout options. It is setup on a ping pong table & I've only just started playing with layouts but this stage works pretty good, is quite technical with lots of stop start braking & cars that slide well do good, the super sliding curves are awesome & I plan to add more. A good lap in a non-mag car is about 17 seconds on this layout.
Surface:
75% SCX 25% Scaly Sport.
Hand Control:
SCX Pro with either 20 or 45ohms, I mainly run 20ohms...
Scenery:
So far I have made some guardrail advertising panels, one background & I have about 90 pine trees so far & I'll add more as I go. I will add grass, buildings & WA road signs etc as I can, a work in progress.
I'd will also paint the track surface to suit the rally style...
Problems
Power:
I had was some power issues once I got over about a 12 second lap time but this was sorted with some soldered power taps and I will eventually finish the track with copper tape once I'm happy with the layout.
Timing:
The SCX Rally Chrono pack is really good, I rate it highly & would recommend it to anyone. It is well priced, easy to use (only has two buttons) and it times to hundredths, tells you total time, fastest lap & average lap speed. Only problem was that it only times mag cars but this was easily solved by adding a small mag held onto the car with some blu tac about headlight height. Mounted either front or rear it trips the timing without adding traction to the car.
That's it so far so here are a few more pics, hope you enjoy & any constructive critisicm to help make it better is welcome...